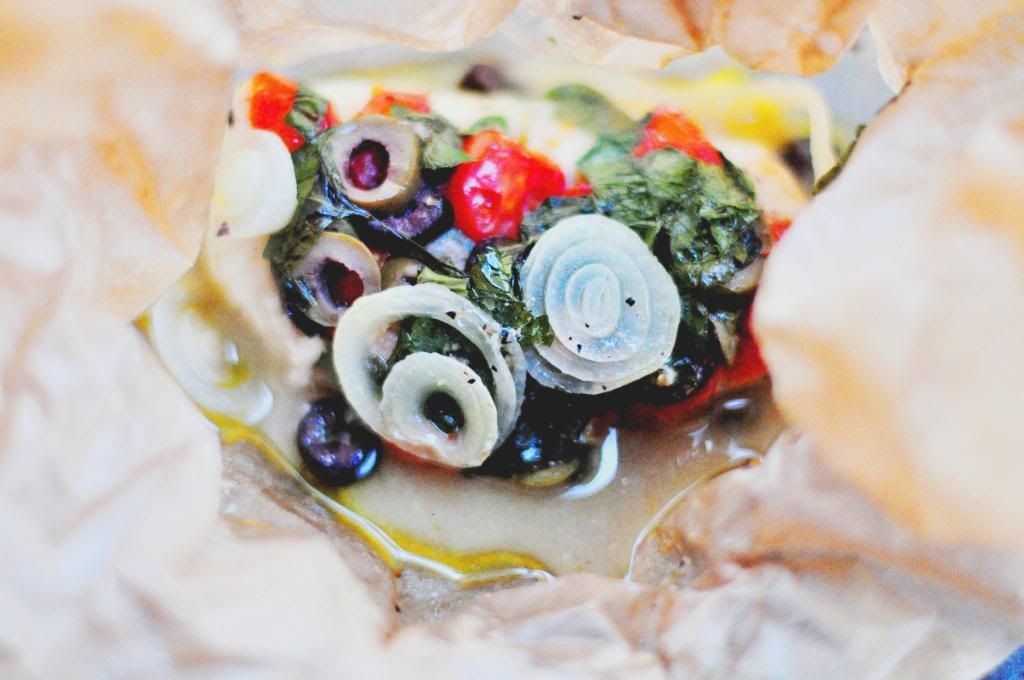 Oh the New Year's resolutions. Just like the tam-tam of the summer holidays reports, it is something we cannot possibly escape. I know for a fact that one of the most common of these resolutions is to eat healthier. And maybe to eat more home-cooked food. Many think eating more fish is one of the ways to improved health. I can agree with this idea, as long as the fish is fished in good waters and, if farmed, not fed antibiotics. Indeed, even when I avoid eating meat, I always make sure to eat some fish.
So I thought of my very favorite way to eat white fish fillet, which is "al cartoccio" (baked in parchment paper). Super easy, healthy (it can be done adding zero fat if wanted) and amazing for the overall taste. You can add whatever accompaniment you like: the parchment wraps are individual, so every member of your family can have them in her/his favorite way. Personally, I dig into Mediterranean-style wraps (of course!) with olives, capers, tomatoes, herbs and wine: simply otherwordly (SCROLL DOWN FOR THE RECIPE).
Molti di noi per il nuovo anno si sono ripromessi di mangiare piu' sano. E molti ritengono che mangiare piu' pesce sia uno dei modi per migliorare il proprio stato di salute. Anche quando evito la carne, infatti, cerco di mangiare del pesce. Il mio modo preferito e' al cartoccio. La cottura al cartoccio, si sa, e' una delle piu' sane ed anche delle piu' gustose. E la cosa fantastica e' che nei cartocci individuali ognuno puo' metter quello che preferisce, facendo contenti tutti. Il mio modo preferito e' in puro stile mediterraneo, con tanto di olive, capperi, erbe, pomodorini e vino bianco (RICETTA A SEGUIRE).


FILETTO DI PESCE AL CARTOCCIO: MEDITERRANEAN-STYLE FISH FILLET IN PARCHMENT PAPER
You Need (4 portions), Ti Servono (4 porzioni)
4 white fish fillets (frozen is ok), 4 filetti di pesce bianco (surgelato va bene)
12-15 cherry tomatoes, 12-15 pomodorini
2 table-spoon assorted olives, 2 cucchiai di olive miste denocciolate
2 table-spoon capers (I use capers flowers), 2 cucchiai di capperi (io ho usato i fiori)
2-3 table-spoon fresh basil leaves, 2-3 cucchiai di foglie di basilico
2-3 table-spoon fresh parsley leaves, 2-3 cucchiai foglie di prezzemolo
2 shallots, 2 scalogni
extravirgin olive oil, olio evo
white wine, vino bianco
marine salt, sale marino
black pepper, pepe nero
parchment paper, carta da forno
kitchen twine, spago da cucina
How To, Come Fare
Preheat the oven to 200 degrees (Celsius, 392 Fahrenheit). If the fish is frozen, defrost it (I simply place it in warm water) and pat it dry first. Place each fillet in a large square of parchment paper. Season on both sides with salt and pepper. Cover with: sliced tomatoes, sliced olives and capers. Add the chopped basil and parsley and the shallot, sliced. Drizzle with olive oil and wine. Close each wrap with kitchen twine. Bake for 25 minutes.
Preriscalda il forno a 200 gradi. Se il pesce e' surgelato, scongelalo prima e asciugalo. Metti ognuno dei filetti in un foglio di carta da forno, sala e pepa da entrambi i lati, copri con fettine di pomodorino, olive, e capperi. Aggiungi il trito di basilico e prezzemolo e qualche fetta di scalogno. Irrora di olio e vino e richiudi con lo spago. Cuoci per 25 minuti.
CONSIDERATIONS, CONSIDERAZIONI: Oh boy, I am so happy I cooked this dish again. The combination of flavors was a real feast for the palate. I may start liking New Year's resolutions if they get me to eat, not only healthier, but actually better. Right after eating this fish, my "bonus" kid – I hate the word stepson, it reminds me of fairy tales' evil stepmothers – said I should start a cooking school
For now, I am OK with continuing writing this blog. Happy eating year!!
Sono felice di aver cucinato nuovamente questo piatto. La combinazione di aromi e' una vera festa per il palato. Potrei cominciare ad apprezzare le risoluzioni per il nuovo anno se finiscono non solo per farmi mangiare piu' sano, ma anche meglio (nel senso di piu' buono). Il mio bonus-figlio (modo svedese per dire figliastro, parola che io detesto, mi ricorda le matrigne delle favole) mi ha detto che dovrei aprire una scuola di cucina, proprio dopo aver mangiato questo pesce
Per ora, mi accontento di continuare a scrivere questo blog. Buon anno mangereccio!!
The juices were amazing with some bread – La scarpetta col sughetto e' "la morte sua"